Teaching a child to read is one of those things we homeschool moms both love and dread. It's tough to teach a child all the different sounds that all the letters make and then to string those letters in to words. However, we love it when our children are successful! I remember well the days of trying to teach my oldest son to read. There was a lot of trial and error. What worked for him then didn't work for my middle son when he came along. Thankfully I found something else that did. Now I'm working to teach my youngest son how to make heads and tails of all the letters he knows and turn them in to words.
Talking Fingers not only teaches reading, it also covers spelling, phonics, and typing. The program first began as a CD (and it's
still available for $79
), but it is now available as an online program.
TOS Homeschool Crew members
were given a one year license to the program.
All home users
, however, receive a license that lasts five years (long enough to teach most children to read) and the cost of it depends on the number of licenses needed. It begins at $35 for one licence and goes up to $100 for five.
During the course of the program, the children are taught how to sound out letters, how to find those letters on the keyboard, and how to string those letters in to words....reading. Talking Fingers also tracks your child's progress.
In the administrator login (or parent login), you have the ability to set the percent needed to progress (your child will continue to work on skills until they reach this point) and then print a progress report.
The best part about all of this? My boys really have no idea that they are learning. They just know that they are getting some time to play games on the computer - something they love to do. They have been able to fight "Vexor" while learning not only how to read letters, but also type them.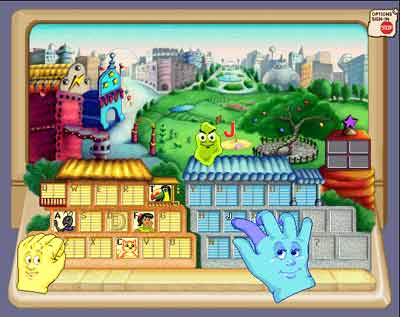 Here is what N9 had to say about the program.... "It was for maybe a five year old. It was really easy!" When I asked if he wanted to keep playing he said this, "Yes! It's still fun!" And I plan to let him continue. When I checked his progress report it's obvious he could stand to improve a bit plus it's helping him learn to type.

I was most curious as to what J6 had to say since he was right in the middle of the K-3 grade range recommended. He is just beginning to learn how to decode letters. I had to chuckle over his answer... "When I did the letters - that was fun. That was like the first time I typed letters!" He definitely wants to keep using it and I certainly plan to let him!
To see how Talking Fingers work and to see how some schools and parents feel about the program, you can click
HERE
to view some videos. (You will need
Quick Time Movie Player
to see them.)
Disclaimer: I was not paid for these review.

All opinions shared are my own. TOS Crew Members are given the product free of charge in exchange for our unbiased opinion of the product.