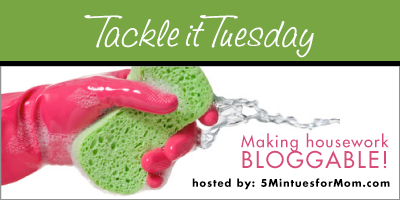 I don't generally take photos of household projects because, well, I'm typically too embarrassed to show any "before" photos. However, when I decided to tackle my pathetic flowerbed last week, I
knew
I needed before and after photos so I could participate in this week's
Tackle it Tuesday
over at 5 Minutes for Mom. I feel like I used to when I took photos in order to use my cute scrapbooking photos.
So here are "before" photos of my very sad looking flower garden.
I began the tackle by just ripping up all the grass and other weeds growing in and around this little garden. I worked steadily one afternoon until time and other things made me stop. However, I was determined to finish up. It took me only about another 30 minutes Sunday afternoon to finish it all up. Doesn't it look prettier now?
I just used some leftover shavings from our chickens. I have an ample supply of sawdust for them now that the sawmill is up and running (for our housing project). While it's not "beauty bark" I still think it makes it look prettier. Now to just buy some pretty annuals to fill in the spaces.
While I may not have the world's best green thumb, I'm pretty happy with my little garden.