When one hears the word "Apologia" in homeschooling circles, it mainly brings up thoughts of science.
Apologia
is widely known as the "go to" spot for great creation based homeschool curriculum and rightly so.
However, over the last few years they have expanded their offerings and are now including some wonderful "
resources for parents
." This section typically includes wonderful books to help encourage homeschooling parent.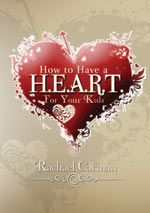 Rachael Carman is a wife and homeschooling mom of seven children. She did not begin her married life set on having a large family or homeschooling. In fact, she was dead-set against it. Then God started working in her life. This book shares the talk she developed a few years to address the "heart" of homeschooling. In fact, you can read the story behind the book by
checking out the sample chapter online
.
I found this to be a quick by convicting book to read. In the 204 pages (don't worry - this is not a traditional sized hardcover book but about half the size) I was continually convicted about my attitude as a homeschooling mother and where my focus needs to me. What I also loved was this was not simply a book about my relationship with my children. Mrs. Carman also addresses your marriage and how that affects the family dynamics.
I highly, highly recommend this book to all parents - not simply homeschooling ones. I plan to hold on to this copy and read it over and over again.

Disclaimer: I was not paid for this review.
All opinions shared are my own. TOS Crew Members are given the product free of charge in exchange for our unbiased opinion of the product.