Like a lot of homeschooling parents, I have found that teaching my children a foreign language just a bit daunting. English is and has always been my first language. My extent of learning a different language consists of four years of high school French many, may, many years ago. And the older one becomes, the harder it is to learn another language.
Dr. Karyn Williamson-Coria developed
R.E.A.L. Homeschool Spanish
to help those homeschooling families like me who struggle to teach their children another language. Dr. Williamson-Coria is a homeschooling mom of three boys. She has over 23 years of experience teaching foreign languages at both the high school and college level. She developed R.E.A.L. Homeschool Spanish after becoming frustrated trying to find a way to learn Spanish along with her children. This program solved that issue. It is designed to be used alongside your child and does not assume you already know the language.
Why "R.E.A.L." Homeschool Spanish? R.E.A.L. stands for "Relax, Enjoy, Aspire, Learn." Dr. Williamson-Coria has that as her one goal for each family - to make learning Spanish fun and easy.
The book is divided into 10 units and each unit has a general theme. For example, colors and numbers, clothes, family and more.Each unit contains vocabulary (33 total), tips for home educators, grammar information (eight items are introduced along with an entire unit on verbs), ideas for implementing the program (28 pages), audio files, activity book, and an answer book. Each section of the book has a corresponding section in the activity book in order to reinforce what has just been learned. You can
see samples
of many of these on their website. Along with all of these, there are free links on the website to help share the culture of Spanish-speaking people.
As a member of the
TOS Homeschool Crew
, I received the "Book Bundle Download + Daily Curriculum Guide" ($59.95) which contained the R.E.A.L. Homeschool Spanish book, activity book, answer book, audio files, and (drum roll please!) a daily curriculum guide. You can see all the
purchasing information
on their website. There are various options.
The daily curriculum guide is well worth the price ($9.95 if purchased separately). It breaks each unit into weekly learning. There are tips on how to plan. The guide is simply a guide, but what homeschool family wouldn't love having it all planned out already. There is even room for notes and plenty of room to make any changes you wish. As most homeschooling families know, we love to tweak curriculum to fit our needs. Dr. Williamson-Coria actually encourages that - from one homeschooling family to another.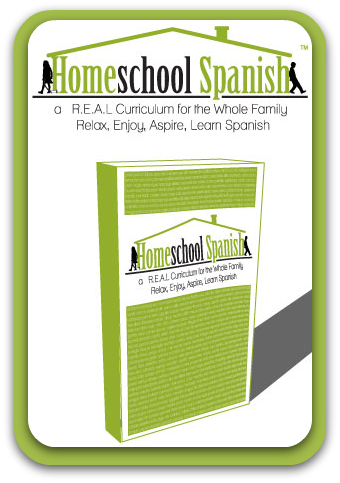 Unfortunately, I was unable to use this as fully as I had hoped as it arrived in the midst of our December break. It is a very extensive and thorough program. I would recommend purchasing the actual book bundle ($99.95 with the daily curriculum guide) rather than the download if funding allowed. I found maneuvering through all the various downloads a bit confusing at times. Although, I really liked the fact that there were black & white as well as color versions of both the book and activity book. While it's easy enough to do this when printing, it was nice to have it already formatted and ready to go.
I liked the conversational nature of the program and the I loved the daily curriculum guide. It was super easy to follow.
Be sure to head over to the
TOS Homeschool Crew Blog
to check out what other Crew members had to say about R.E.A.L. Homeschool Spanish.

Disclaimer: I was not paid for this review.
All opinions shared are my own. TOS Crew Members are given the product free of charge in exchange for our unbiased opinion of the product.