As a mom, one of the things I've always tried to teach my boys are virtues - things like "patience" and "self-control." And like most parents, it's sometimes difficult to instill those things in to our children - no matter how hard we work.
Heather McMillan created
We Choose Virtues
as a direct result of seeing the lack of this in the children she interacted with on a daily basis - including her own. So she created We Choose Virtues which has products from posters to cards to more to help children learn the virtues.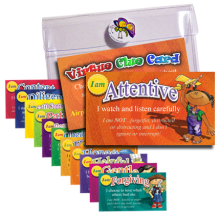 I recently received the Virtue Clues cards
(currently on sale for $5.99).
These are small business card style cards which come with a clear holder. Each has a virtue listed on the front along with a small catchphrase for each. The back of each then challenges the child to go the whole day with expressing that virtue. For example, the card for obedience says, "I am Obedient. OK, whatever you say, I will obey, right away. I am NOT...argumentative, slow or unwilling, and I don't refuse to do what I'm told!" Each phrase is easy to learn and as we all know, kids are such sponges and with repetition, they can easily memorize each one.
I also received the
Teacher's Handbook
($4.99 for a download or $19.99 for a hard copy). This book contains lots of ideas for teaching the virtues for your children. It is included
free in many of the kits
offered by We Choose Virtues.
I was also given the
Kids of Virtueville Coloring Book
($3.00 download). Each virtue has a character that goes with it. The coloring book has a full page of each character for the youngest ones in your family to color. There are also a few activity pages in the back of the coloring book. The best part is that it is a pdf download so you can print off as many as you need.
Included for free on their website are many assessment tools including the
Family Character Assessment
. This form, along with a few other great resources, are available for free. One is a list of memory verses for each each virtue along with a Bible hero. For example, "I Am Attentive" lists Samuel as the hero and Proverbs 22:17.
We Choose Virtues
offers so much more than what I just reviewed. They have many products designed to make learning virtues fun while also teaching the importance of them.
We Choose Virtue currently has some promo codes available. You can only use one at a time so you'll need to pick which one gives you the most benefit.
VIRTUE15 for 15 % off the shopping cart is still available

SHIPFREE for free worldwide shipping
Also, for the months of January and February, the
100 Days of Virtue Poster and Butterfly Stickers
are free with the purchase of any
homeschool kit
($99).
So what did we all think of them here? I loved them. It made it easy to teach the boys. One of the things I added to our curriculum this year was a character study. Because they are small and portable, it is easy to take them with you and work on them anywhere - including in the car while we are running around to various errands.
Be sure to head over to the
TOS Homeschool Crew blog
to see what other Crew members had to say about We Choose Virtues.

Disclaimer: I was not paid for this review.
All opinions shared are my own. TOS Crew Members are given the product free of charge in exchange for our unbiased opinion of the product.