I chose to homeschool my children for many reasons. Chief among them was the ability to teach them about God and His wonderful creation. Finding resources that help me do that makes it easier for me to accomplish this goal.
Years ago I subscribed to a magazine called
Creation Illustrated
. At the time I was looking for something for my then seven year old son to enjoy. I ended up liking the magazines far more than he did. The photography inside was stunning. The articles pointed to the Creator. It was a fantastic magazine. However, I let our subscription lapse.
Recently members of the
Schoolhouse Review Crew
were given the opportunity to review that very publication. We were sent a years worth of magazines. Since they are published quarterly we received the Summer and Fall 2011 issues as well as the Spring and Winter 2012 issues.
For 19 years, a homeschooling family has strived to reach this purpose in each issue...
Our purpose is to share the wonders of God's creation.
By revealing fresh insights of His infinite wisdom,
gentle touch, undeniable justice, redeeming love,
and flawless design, pure truth shall bring renewed peace.
each part of this publication is offered as a reprieve
from the daily rigors of life so that all can look to the
future with unbridled gratitude and hope.
The publishers (the Ish family) accomplishes this by dividing each edition into three sections: Nature, Scripture and Living in order to provide mental, spiritual and physical enrichment.
A subscription to Creation Illustrated can be purchased
for 1 year for $19.95 or 2 years for $37.95 or even 3 years for $53.95.
I enjoyed how all the articles continually pointed to the Creator. The magazines would be a great addition to nature study. The information shared and even the photographs would enhance that type of study. There is even a monthly photo contest for children.
As a amateur photographer, I found the photographs in each issue to be nothing less than stunning. I strive to have my photos meet the quality shared.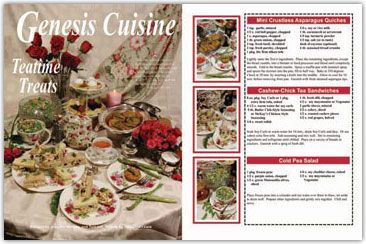 As I continue to walk my journey to becoming healthier, I really enjoyed the monthly "Genesis Cuisine" articles. The recipes used whole healthy foods and were all vegetarian friendly.
My favorite resource was the "Resource Guide" included in each issue. Each issue contains a guide in the back that is designed to "help students of all ages integrate and embrace the practical spiritual lessons available through the study of God's handiwork." Recommendations are made for devotional readings as well as questions for deeper study of the articles in the issue. Suggestions for "Creation Activities" are also typically included.
I did hand out issues to each of my children one day. They all quietly sat and checked them out. As I mentioned, I feel this is a great resource to enhance a nature study. I think it's also a good resource to simply "strew about" and let the learning happen as it will. However, the Resource Guide also helps in giving some direction and makes it a very easy resource to add to your school day.
Overall I felt this was a great publication and very well done. I especially loved how this was created by a homeschooling family and continues to be published by them 19 years after they started.
If you'd like to check out Creation Illustrated yourself, you can
request a free introductory copy
.
Be sure to head over to the
Schoolhouse Review Crew blog
to see what other Crew members had to say about this product.
Disclaimer: I was not paid for this review.
All opinions shared are my own. Schoolhouse Review Crewmembers are given the product free of charge in exchange for our unbiased opinion of the product.