Traditional teaching methods require a lot of different things. It requires dry textbooks to feed information to students. It requires teachers to take the information and give it back to the students to learn. It requires quite a bit of time and information to be imparted to students via a specific scope and sequence of information.
In contrast,
A Thomas Jefferson Education
(TJEd) is defined by the following "7 Keys of Great Teaching:"
Classics, Not Textbooks
Mentors, Not Professors
Inspire, Not Require
Structure Time, Not Content
Simplicity, Not Complexity
Quality, Not Conformity
You, Not Them
Styled after the method of teaching that many of the Founding Fathers learned by, TJEd is definitely far from mainstream.

Along that line of thinking, TJEd offers
This Week In History
(TWIH) via a web-based subscription. Just as the name implies, weekly content is shared via a blog like post that you can opt to also receive in your email inbox in relation to special days occurring during the upcoming that week.
Sample weeks
may be viewed on the website. Because of all the various information shared, this resource can also easily be used with any age.
TWIH is super easy to use. You can view the upcoming week prior to the start of it in order to prepare lessons based on upcoming events and even tie it in to special family days. Or, if you are like me, you can pull up the information the night before and pick something to do that correlates to the very next day. Okay, who am I kidding...it also works great to sit all the kids down and pull up the week's offerings right then and there and jump in with both feet. In other words, no planning is necessary to glean a lot of interesting information from TWIH!
Subscriptions
are on a monthly basis and cost $9.99. Once you are a member, you are also able to search the archives for an entire year's worth of dates.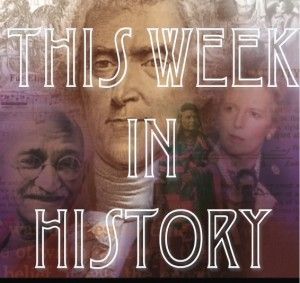 I am definitely a "fly-by-the-seat-of-my-pants" homeschooling mom at times and most especially during our lighter school days in the summer months. As a result, I did a lot of last minute planning with TWIH. However, it worked great. TWIH has a list of information for each day. Included for each item that can be delved into is a photo (or two), basic information to get the ball rolling on what to learn, hands-on-activities, and links to other websites, videos, or information. This helped so much. It was so easy to just open the email, find what was going on that day, begin reading, click on a couple links, and have the information to share with my boys.
My boys enjoyed learning about the special happenings for the various days we studied. For example, we learned about bells, the Liberty Bell in particular, and explored the history of bells. We
watched videos
and read stories. Each day had new offerings and fun things to learn about including various states which ties in nicely with a geography study.
Overall I thought this was a fun resource. Implementing it into our learning was very easy. My boys seemed to enjoy it. I appreciate all the work that goes in to putting together something like this and Rachel DeMille has done a top notch job for TJEd on this resource.
Disclaimer: I was not paid for this review.
All opinions shared are my own. Schoolhouse Review Crewmembers are given the product free of charge in exchange for our unbiased opinion of the product.