Let's face...studying words can be boring. Reading definitions. Memorizing. How can anyone retain the information if it's not made meaningful?
Vocab Videos
has created a unique product to make learning vocabulary, specifically geared to the SAT, fun. Vocab Videos is simply that - videos created to help explain the 500 key vocabulary words used on the SAT. Each word is explained in a short segment as part of a larger "episode." Each "episode" contains about 20 words and each complete episode is based on a parody of more popular TV shows such as
Lost
or
The Office
.
I like how the word is pronounced and the definition shared both at the beginning and end of each segment. The videos, in the words of the company, are outrageous...and they are. They are very much over the top and aimed to be so in order to make the words memorable.
Since the product is aimed at SAT prep, I would recommend this for high school level students. There is mild cussing in some of the videos and, as mentioned, they are over the top in their antics. Designed as parodies for modern day television shows, the content can be a bit on the mature side as well. In fact, I originally started out by having all my boys watch them (ages 8-15), but after only the first one or two decided that it was best viewed only by myself or my oldest son.
Members of the Schoolhouse Crew Review were given a small
educators account
($74.99 for 12 months) which allows use with up to 20 students. Vocab Videos does offer a one month free trial for educators as well in order to try it out first. The membership includes:
The Teacher Dashboard (as shown above) so that you can monitor a students progress
Individual accounts for each student
Access to all videos and study materials
Digital quizzes
Multimedia Flash Card Maker
Digital Worksheets
However, you can also purchase just
a student account
. A six-month account is $24.99 and a one year account is $39.99. This type of membership includes:
Access to all the videos in the library (500 videos)
Access to all study materials which include

Digital Quizzes
Digital Worksheets
Multimedia Flash Card Maker
Downloadable Crossword Maker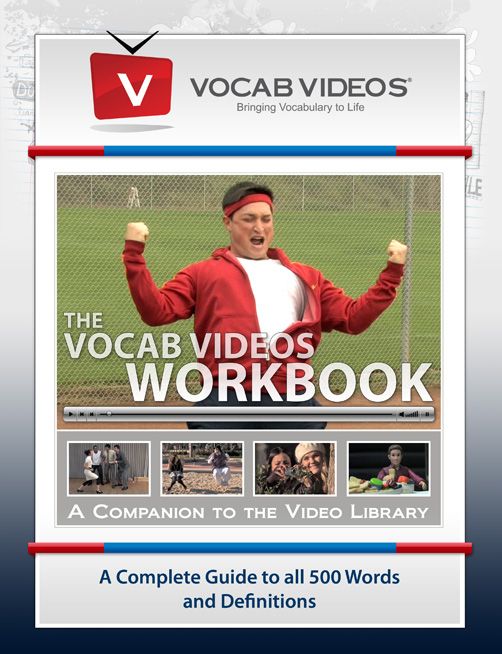 There is also a separate
workbook
($11.99) that can be purchased to help reinforce what is being taught on the videos.
Vocabulary is a large portion of the SAT and it's helpful to know. However, I wasn't overly fond of this product. While I understand why the product was made, I struggled with letting my son watch it due to the language used. Now I know he's heard much worse on some of the TV shows and movies he has watched and even people he's encountered in real life. However, I simply had a hard time assigning it to him for schoolwork!
Overall I think the concept is great, I just wish they had chosen to tame the language and situations a bit.
Disclaimer: I was not paid for this review.
All opinions shared are my own. Schoolhouse Review Crew members are given the product free of charge in exchange for our unbiased opinion of the product.