This is the view out my window at the moment...
is it any wonder I'm already dreaming about the trips I'd like to take this summer?
Some have already been planned and scheduled and even paid for! I love that. Some are still in the planning stages. Some are just wishes and some, I hope, are definite. Here's where I'm hoping to head once the snow (and mud!!) are gone.
Here are the two definite ones, but these are "mom" trips (aka mom-recharge):
I first went to
MassHOPE
last year and it was a
blast
. I had a fabulous time and will be heading there again at the end of April. I'm looking forward to the speakers and the vendor hall. However, I think the thing I'm looking forward to the most is time with friends. And, since I'm a mom I will say this as well, time with friends
without
children to interrupt our conversations. Just keeping it real.
Another trip I am going on that is "adult-only" is
SoulFest
. This is a four day Christian music festival in New Hampshire. It will be my third year in a row to attend. Again, moms-only and it's a
fantastic
time of recharging for me especially before our new school year will begin. Our tickets and hotel are already bought and paid for which makes it super enjoyable as well.
Our big family trip this year will probably be for a few days "upta camp." My hubby's family has a camp on the northern shore of Moosehead Lake. It's
very
remote and I am not much a roughin'-it kind of girl, but my guys love it so I try to go with the family every other year or so. It's been a couple years so it's time for another trip there. It will be relaxing and it's much easier to go now that the boys are old enough to take care of themselves. And considering the location, technology can't interrupt. We can now text from camp, but there is no way to call unless you hike out to the truck (a 1/2 mile) and drive to the top of a nearby hill.
I have been planning to take my boys on the
Freedom Trail
in Boston now for a few years. It's never seemed to work out. I am hoping that this year is the year. Right now I'm tentatively planning to head to Massachusetts near the end of May/early June. I have relatives that live just south of Boston so we'll crash there which saves on hotel expenses. My aunt lives right on the water and we'll be able to take a commuter boat from her town directly in to Boston. I've done this with the boys before and it's affordable and fun. I will either be booking a tour or using an app. I haven't quite decided yet. Anyone ever done this with children? Do you find the tours kid-friendly (i.e. they can explore enough) or is it better to go on your own time schedule? My boys are 9, 12, & 16.
We'll extend our time in Boston to allow for a day at the beach. My aunt lives near Nantasket Beach which is fantastic. We went down for a few days last year to visit and they loved playing in the surf. I may also try to add a few more historical things to our trip, but I think a full day in Boston may be all we can manage.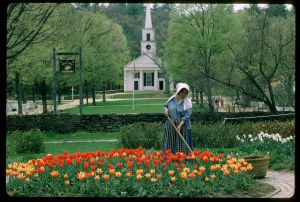 I am also considering a trip to
Old Sturbridge Village
. I think this will be a separate trip as invited my sweet mother-in-law to tag along with us. I'm also going to see if my sister-in-law and her three young ones want to join us. I'm busy researching that now to see if it's a doable day trip. I think it can be done, but it will be a
long
day. I'm about three hours from there by car. Any tips?
The last trip that is in the planning stages is an anniversary trip for my hubby and I. We will be celebrating 20 years of marriage this summer and are planning to take a trip to Niagra Falls. We've never been and it looks like a lot of fun. I'd love any tips anyone may have on this as well. I have an general idea of what we'd like to do
at
the falls, but I'm looking at things to do in the surrounding area as well. We will most likely go for 3-4 days.
What types of trips do you all do in the summer?