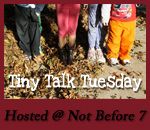 I thoroughly enjoy reading the posts over at
Tiny Talk Tuesday
. This week I simply had to join up.
Let me preface this by saying J6 is a tad, well, melodramatic. He is something of a "drama king." It doesn't take much to set him off yelling and screaming (literally) about something. As a result, I don't run to his aid unless I can tell he's well and truly hurt - which isn't often.
Just the other morning J6 was in his room crying and carrying on. I made my way down to his room and asked my usual question, "What's the issue?"
J6 replies in his whiniest voice possible, "I can't find something!"
This isn't usual. He's constantly loosing things.
"Okay, well, what are you looking for?"
And he replies,
still crying
.....................
"I don't remember!"
Yeah, I can't make this stuff up if I tried.