VocabAhead
is a rather neat company. They carry two products designed to help your child (or you!) grow you vocabulary. I was able to review their DVD-ROM that contains 1000 SAT Vocabulary words for the
TOS Homeschool Crew
. The words are presented in two forms on the DVD - either as videos you can watch on your computer or your mobile device (such as an I-Pod) or as MP3 audio files. Here is an example of the videos:
The cartoons make the word memorable. None of them are very long and they are fun to watch.
On their website they also have a few more tools to help with learning the words and their definitions. There is a "
Study Room
" where you can see quite a few of the videos (not as many as are available on the CD). There is also a quiz feature. This is a great way to review the words with their meanings. There are also flashcards that the student can use.
Another really great feature in the Study Room is the ability to make lists for the student to study. As a teacher you can even create your own list for your student and then embed a widget on your blog or website for them to use. I thought that was an interesting feature!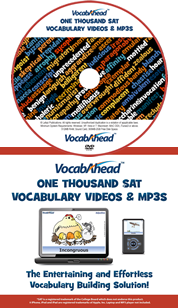 VocabAhead
sells their product through
Amazon
. It retails for $24.99.
I had my oldest son use this product. He watched five videos each day of his choice and created his own flashcards to help reinforce the meaning. I plan to use this a bit more to help him build up his vocabulary and spelling although I'm not worried about the SAT quite yet as he's only in eighth grade. I have a bit of time to build up his vocabulary.
My only issue with the product was the sometimes "parent-bashing" that when on while defining the words. You can see this in the very first word (
abase
). Overall though, I thought this was a solid product. Having the DVD-ROM allows the user to not have to be connected to the internet, gives you 1000 words to study and pick from, and allows you to download audio files to any MP3 player or the videos to a supported player.
Be sure to head over to the
TOS Homeschool Crew blog
to see what other Crew members had to say about this product.
Disclaimer: I was not paid for this review.
All opinions shared are my own. TOS Crew Members are given the product free of charge in exchange for our unbiased opinion of the product.