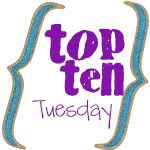 We live in rural Maine and it's always a drive to get anywhere. So much so that I don't measure how far I need to go in miles but rather in time. Church takes 20 minutes one way. Grocery shopping and, well, really, any type of shopping is at least 20-30 minutes away. The little dinky library we use to touch and feel real books is 15 minutes away. The "corner store" is 15 minutes away. Well, you get the picture.
Thankfully my boys love audio books and so do I. Over the years I've collected quite a stash and I'm always on the lookout for more. Since my boys are captive audiences while we're driving, it works out great. I've tried having them listen while at home and it's just not the same. Thankfully we always have time to listen while driving and it helps make the time speed by.
Here, in no particular order, are some of our favorite audio programs:
Happy listening!
Be sure to head over to
oh Amanda
to see what other Top Ten Lists have been posted. And you really should go read Amanda's post. She is highlighting a pretty cool charity. If we didn't have over a foot of snow on the ground and mud (lots of mud where there is no snow), I'd join in.