I was recently given the opportunity to check out a cool science book from
AIMS Education Foundation
. The book that I was given to use was their
Electrical Connections
($24.95) geared towards grades 4-6. Electrical Connections covers all things electrical - well, maybe not all things - but some pretty cool things about electricity.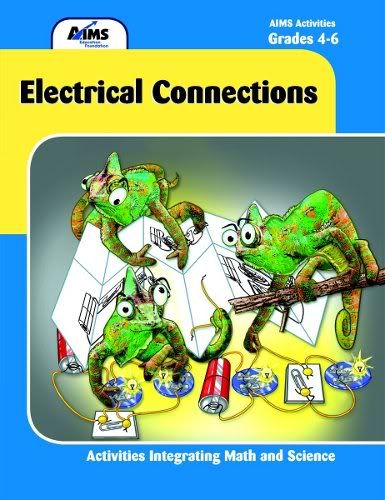 The book is broken into four sections. Students learn through a number of hands on activities about how static electricity works, circuits, electromagnetism, and the history of electricity. You can see a
sample of the book
which includes a peak at the table of contents. A favorite component of mine with the printed book was the CD contained in the back. It includes all the reproducibles making it super easy to print out the handouts needed for each lesson.
I used this particular book with my middle son who is at the grade level the book is geared for. We tackled the Static Electricity section. Overall I think this book has its merits, however, we were unable to get some of the experiments to work well for us. I like how the information was presented and that it the handouts were written to the student. I love the CD that was included - a lot. I wish more books would consider doing the same to make it easier for teachers to make the copies they need.
While we had a rough start with this book, I did like it and plan to continue using it for our homeschool. In particular, we will be using the history of electricity. I really like that it was included in the book. There are a number of extra supplies needed to complete the experiments. While many of them are common household items (for example: plastic wrap used in the static electricity experiment), you would need to plan for additional purchases if you planned to do all the experiments as listed in the book. AIMS does carry many of the items needed as well and they are listed with item numbers in the back of the book.
Be sure to head over to the
TOS Homeschool Crew blog
to check out all the reviews for
AIMS Education Foundation
. There were six books reviewed covering grades K-6 in various subjects.

Disclaimer: I was not paid for this review.
All opinions shared are my own. TOS Crew Members are given the product free of charge in exchange for our unbiased opinion of the product.