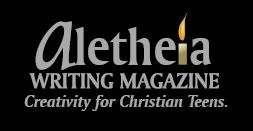 I love to write. I always have. It could be one of the reasons I started this blog eons ago, okay, six years ago. I can remember working on school newspapers and trying my hand at all kinds of creative endeavors such as poetry and short-stories. I'm pretty sure it stems from my love of reading. I really wish I had something like
Aletheia Writing Magazine
when I was a teenager.
The magazine is geared towards Christian teens (not necessarily homeschooled, but the majority that
submit content
happen to fall in that category) ages 13-19. There are sections in each magazine for short stories, poems, informative articles, book reviews, drawings, and even photography. There is a "featured contributor" each month as well that has a longer story highlighted as well as an interview with someone who will, perhaps, inspire the readers to a career in a writing field. For example, the Summer 2011 issue had an interview with a screenwriter while the Fall 2011 issue had an interview with a cartoonist/artist.
One feature I enjoyed was the "Writer's Challenge." A photo was shared and then readers were challenged to enter a poem or story based on the photo.
A
subscription to Aletheia Writing Magazine
is $26 for a year. This includes four color issues of 40 pages each.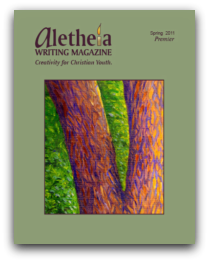 If you'd like to see a copy of the magazine, head over to
their home page
and click on "See Sample of the Magazine." It's near the top right corner of the page. This will allow you to view the full digital version of the Spring 2011 issue.
I was very impressed with this magazine. I loved that the majority of the content was submitted by teens. I handed it off to my own teen who promptly snatched it away from me and began to devour it. In fact, I still can't find it. I'm sure it's in his room somewhere. Of course, this is why I read it first! This boy is an avid reader and tells me he wants to write someday. It's in his blood. Both his father and I love to read and do so constantly. We also both love to write.
I asked B15 what he thought of the magazine. He promptly asked me to get him a subscription. My thoughts are that it would make a great Christmas gift for him.

Disclaimer: I was not paid for this review.
All opinions shared are my own. TOS Crew Members are given the product free of charge in exchange for our unbiased opinion of the product.