From time to time I have been blessed to try out a product that I have been hearing a lot about over my homeschooling years.
Progeny Press
was on my short "to buy" list and one I was eager to see if all I had heard was true.
Progeny Press has
over 100 literature study guides
covering books for children all the way from kindergarten to high school. I appreciate the company's goal wholeheartedly...
"Our goal is to teach our children to think clearly,
to understand literature,
and to rely on scripture for truth and values,
and enjoy themselves while they do it!"
The study guides come in four levels covering lower elementary, upper elementary, middle school and high school. They also cover a variety of genres making it easy for parents to chose which one would work best for their course of study. The guides are available either as a printed version, a pdf file on CD or a pdf file as an email attachment. Progeny Press has also begun selling interactive pdf guides. This means the student can type their answers directly into the typeable pdf. This is the type of guide we reviewed. The guides range in price from $10.99-$27.99.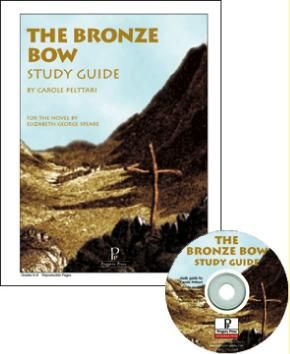 The guide that we used here was the one for
The Bronze Bow
($16.99). You can see a sample of the guide by clicking
HERE
. This is a middle school level book and I had my oldest son try it out. We were able to use the interactive guide and I have to say, I thought it was a great innovation. I have three boys and writing is not one of their favorite things to do. The fact that my son could simply type in his answers was wonderful. I emailed him the guide and he would save and email it back to me. Super easy for both of us.
My oldest isn't very talkative about school. He rarely wants to admit that he likes something that I have him do for his coursework. While he wouldn't come right out and admit he liked this product, I could tell that it was a hit with him or as much of a hit as anything is with him that is related to school. This truly is a high compliment to the product.
I have decided that I wish I had tried out
Progeny Press
long before now. I will definitely be buying more of these guides for all of my boys and recommending them to other homeschoolers.
Be sure to check out the
TOS Homeschool Crew blog
to see what other Crew members had to say about the guides.

Disclaimer: I was not paid for this review.
All opinions shared are my own. TOS Crew Members are given the product free of charge in exchange for our unbiased opinion of the product.