Just as the name of the company suggests,
Classical Academic Press
, sells curriculum to support a classic education. The company is perhaps best known for its Latin curriculum. In fact,
I did a review of that
last year. However, they offer more than just Latin. This year I was given the opportunity to review their logic program called -
The Art of Argument
.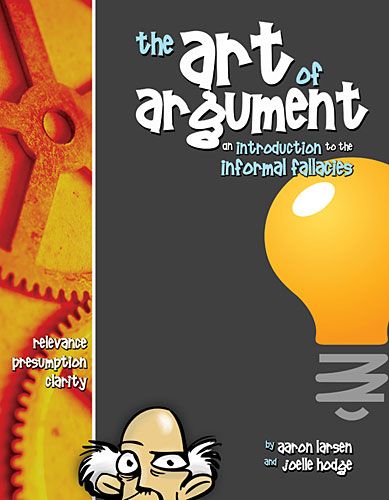 Crew members received the
student text
(pictured above) which sells for $21.95, the
teacher edition
which sells for $24.95, and the first DVD which covers the introduction to the course and the first six fallacies presented. The
DVDs
are sold in a set of five with more than eight hours of conversation that covers all 28 fallacies presented. The DVD set retails for $54.95. Alternatively, you can purchase all the products mentioned above as a
bundle
for $88.95.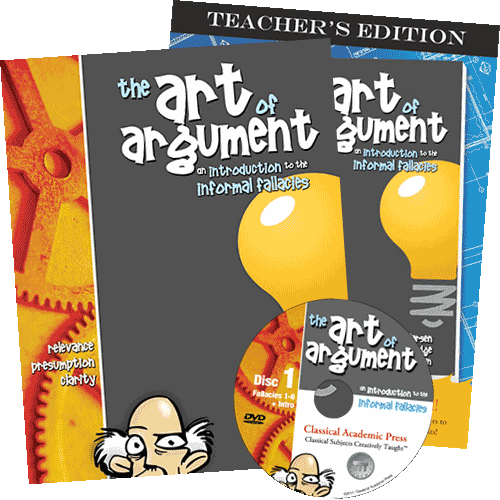 So what exactly
is
The Art of Argument
and what does it cover? Just as the subtitle suggests, it is an introduction to "informal fallacies." Okay, so what are "informal fallacies?"
Wikipedia
defines
a

fallacy

as "usually an improper

argumentation

in

reasoning

resulting in a misconception or presumption."

Young teens, actually all consumers, are bombarded with arguments via the media. They see them as they are shopping in stores, watching TV, listening to the radio, virtually everywhere they look they are told why they need a product. Given that this is an election year, it's not unheard of that they will also hear arguments why a certain candidate should be chosen. But are these sound and logical arguments? Many are not. So how does one tell the difference? By learning what the common fallacies are in order to analyze the arguments.
The Art of Argument helps the student learn what these are and how to identify them.
The Art of Argument is a beginning logic course. It is designed to be used with students in grades seventh through ninth if they are already following a classical model of education. It can also be easily used for children a bit older who have never been exposed to the study of logic.
Samples of both the
student text
,
teacher edition
, and even
the DVD
can be viewed on their website before you buy. The sample of the DVD lesson is a full lesson as well.
I had my 15-year-old son try out this program. He has never really done any logic study. I liked how easy it was to implement this curriculum. It really does work as an "open-and-go" style. I didn't need to spend a lot of time figuring out how it all played together. We took it in very small bites since this is new to him. I
loved
having the DVDs since it frees me up a bit. And honestly, this is not a subject I could teach in the depth that is needed to fully understand fallacies, how to identify them, and how to refute them.
While I don't think this is one of my son's favorite subjects, it's one that I see merit in continuing. In fact, we will be continuing to use this product and Classical Academic Press has also made it easy for TOS Crew Members to purchase the remaining DVDs that cover the rest of the program. I really like this company and all it has to offer. Just as their motto says...."classic subjects....creatively taught."
Be sure to head over to the
TOS Homeschool Crew blog
to see what other Crew members had to say about this product.

Disclaimer: I was not paid for this review.
All opinions shared are my own. TOS Crew Members are given the product free of charge in exchange for our unbiased opinion of the product.