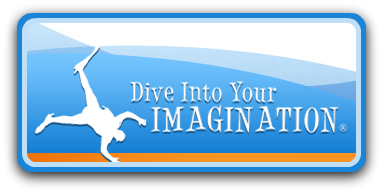 Annie Crawley
(aka Ocean Annie), the creator of
Dive Into Your Imagination
, has a passion for the ocean. She shares that passion through this series of DVDs. Annie grew up never seeing the ocean. It wasn't until she was in college that this passion grew. About 90% of the ocean is still unexplored. It makes up most of our Earth! Annie wants to share this unique and exciting world with children and thus created the DVDs.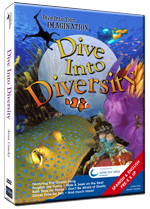 I was able to check out the
Dive Into Diversity
DVD ($19.95). This particular DVD covers:
Crusty Curstaceans
Night Diving
Coral Reef Living
Be a Submarine Pilot
Swim in a Kelp Forest
Sea Animals with Backbones
Diversity
Invertebrates of the Sea
Each chapter is short. The total running time is only 44 minutes. It's designed to be used as a jumping off point for the Educator Guides (152 pages) that she also has created. These are designed with a classroom setting in mind, but many of the activities can be adapted for homeschool use.
While babysitting the last few weeks (a three year old boy & his five year old sister), I used both the DVD and the Educator Guide. The guide comes with teaching points, lessons plans, and activities designed to engage the child in thinking about the ocean and how to help preserve it. There are reproducibles for each chapter included which I always find helpful. This allows me to print as many as I need. Each chapter on the DVD has a corresponding chapter in the Educator Guide.
The DVD is geared to children from preK up to about grade 3. I had a 3 year-old boy, a 5 year-old girl, an 8 year-old boy, a 11 year-old boy, and a 15 year-old boy all watch. The two youngest in particular really enjoyed it while my 8 year-old and 11 year-old didn't mind watching it. My 15 year-old felt it far beneath him but that didn't mean he didn't learn anything. It definitely is geared to a more elementary crowd though.
You can purchase the DVDs (there are two more in the series with more planned) from
Annie Crawley's website
for $19.95 each. The Educator Guide in printed form is rather expensive (most likely because it was written geared towards public schools) at $299. There is a level for preK-K and one for 1st-3rd grade. However, when you buy any of the DVDs, simply mention in the comments that you homeschool and would like the PDF version of The Educator Guide and Annie will send it to you for free (a $70 value).
And for the entire month of June, there will be free shipping with any order placed at the store on the
Annie Crawley website
for any of my followers. Be sure to mention you heard about the product from my review via the TOS Homeschool Crew.
Head on over to the
TOS Homeschool Crew blog
to see what my fellow Crew members had to say about the DVD they were able to check out as we all received one of three titles.

Disclaimer: I was not paid for this review.
All opinions shared are my own. TOS Crew Members are given the product free of charge in exchange for our unbiased opinion of the product.