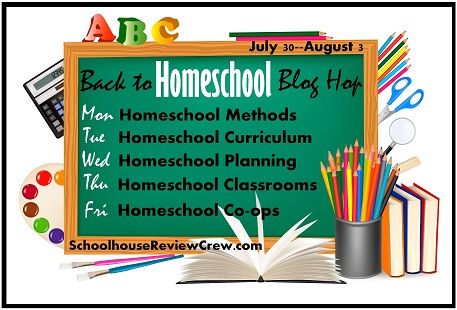 Actually, we (as in my own homes school) started back already but many homeschoolers start at various times of year given what works best for them - a great benefit of homeschooling if you ask me! Since we'll be moving at some point in the next couple of months, I wanted to get a jump start on getting in our necessary 175 days thus our early start.
On Monday Crew members will be talking about homeschool methods. Tuesday will be a discussion about one of my favorite topics - curriculum! I'm going to have to make sure I spend some time hopping to other blogs on Wednesday - planning is not one of my strong suits! Thursday will be a fun day as we get to peak into homeschool classrooms. Mine will be virtually shared. As I mentioned we'll be moving and our new house will have a place for a dedicated learning room! I'll be sharing things I'll be looking to have in our room. And on Friday we'll be talking co-ops. You may be surprised to hear my thoughts on that subject.
It's going to be a fun day and this will be a fun hop. There will be a Blog Hop Linky in each post which will make it super easy to "hop" from post to post. Be on the lookout July 30th-August 3rd!