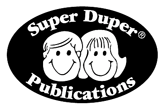 Super Duper Publications
is a company that sells products designed to help children overcome learning disabilities. Their materials are designed to be used by speech-language pathologists, special educators, teachers, and occupational therapists and were created by the same type of people. However, the products are also designed to be used at home by parents.
While none of my children have learning disabilities, they definitely can use some help learning to listen carefully and following directions both simple and complex. This is one reason I jumped at the chance to check out
HearBuilder: Following Directions
. Schoolhouse Review Crew members were given a copy of the
Home Edition which sells for $69.95
.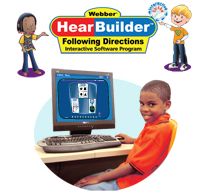 The program is designed to begin with simple directions and then give progressively harder and more complex directions. I liked the concept. The child is a "toy inventor" and the program starts with them earning the tools they need to make the toys and progresses all the way to packing the truck to ship them off. All along the way they are demonstrating knowledge in 40 basic concepts in five areas such as basic directions, sequential directions, quantitative & spatial directions, temporal directions, and conditional directions as they complete each level.
While the program is really designed for children in grades preK-3 who have difficulty processing auditory directions, I decided to use this with
all
of my children - ages 8, 11, & 15. My 15 year old, as expected, found this to be a bit babyish. However, given that it's designed for younger children, I wasn't surprised. My 11 year old initially really liked it and did well. Although, when I was just asking him about it, he said it was boring. Considering he would ask to work on it, I find that hard to believe. I think hearing his older brother call it "babyish" may have influenced his answer. :-) My 8 year old did enjoy it. And
all
of my boys did well with it and have shown a better grasp at listening and following directions. It's something we'll continue to work on.
The graphics were good, the sound was excellent, and I really liked the concept. Even though this is designed for children who have difficulty processing auditory directions, I think it would be good for any young child to practice this much needed skill.
I had some difficulty with getting this program to work on my computer. When I set it up initially and tried it out, it worked fine. However, when I tried getting in a few days later the program would boot up but wouldn't let me log in. The tech support was great in helping me figure out why it wasn't working and after a few back and forth emails, we were good to go.
As I mentioned, the home edition of the program is $69.95, however,
Super Duper Publications
is offering a coupon code valid through August 31, 2012. Use coupon code
BLGFD30
to receive 30% off your purchase of the HearBuilder software. If you'd like to try out the program first, you can
try out some demos
over at their website.
Be sure to head over to the
Schoolhouse Review Crew blog
to read the reviews of all the Super Duper Publication products that the Crew members tried out including
Jeepers Peepper card game
and the
HearBuilder Auditory Memory computer game
.
Disclaimer: I was not paid for this review.
All opinions shared are my own. Schoolhouse Review Crewmembers are given the product free of charge in exchange for our unbiased opinion of the product.