Over the last few years,
Apologia
has really begun to make a name for itself outside of the science realm it has been best known for. While they still make their fantastic science curriculum, they have also begun providing some really wonderful Biblical worldview products.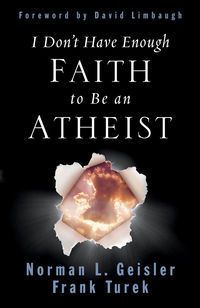 This is one such product. Schoolhouse Review Crew members were recently given the opportunity to review the book shown above...
I Don't Have Enough Faith to Be an Atheist
($16) by Norman L. Geisler and Frank Turek. The book is geared for high school age students all the way through to adults.
Geisler and Turek give a clear presentation of the facts of the Bible and show how it actually takes more belief to not believe in a Creator God than it does to believe. While that may sound confusing, the authors present their facts in a clear and precise way in order to help those who may be searching for the Truth as well as help those, who profess a belief in Christ, to share that belief effectively and clearly with others.
At 400+ pages, it's a pretty substantial paperback book, but it's not full of dry and boring facts. The authors weave in their personal stories throughout making it a very interesting read. You can view the
table of contents
and
a sample of the first 50 pages from the book
on the website.
Even if this were all that were offered, it would be a great resource. However, there is also a companion
I Don't Have Enough Faith to Be an Atheist Curriculum workbook
($33) to make this a full apologetics curriculum geared for high school level students.
With over 200 pages, the workbook contains a chapter that correlates to each chapter in the book. Every workbook chapter lists the pages one should read in the book prior to doing the workbook. It also lists out the key topics, vocabulary and space to write out the definitions, comprehension questions, profiles of important people and topics, and study questions. There is a
sample chapter available on the website
which includes the complete chapter of the workbook that matches up with the first chapter of the book. You'll find that the
table of contents
lines up exactly with the book.
Once you purchase the workbook, you will be given access to an online site where you can also download the answers to the workbook as well as chapter tests and the answer key to the tests. These are all included for free with the purchase of the workbook.
Each chapter in the workbook is designed to take 2-3 weeks to complete and it's expected that a student will take about nine months - or a typical school year - to complete the course.
I found this course to be
very
thorough. I like how it was presented. It made it very easy to hand this off to my son to use. However, this is also a curriculum that would work well for adult Bible study. In fact, I may just have to borrow it from my child so I can finish reading it!
Please head over to the
Schoolhouse Review Crew blog
to see what other members had to say about this curriculum.
Disclaimer: I was not paid for this review.
All opinions shared are my own. Schoolhouse Review Crew members are given the product free of charge in exchange for our unbiased opinion of the product.