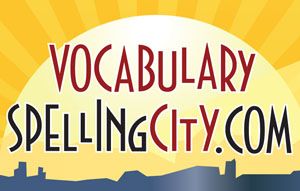 This is one product that I have heard of before and have used on occasion.
Vocabulary Spelling City
does just what the name implies - help make learning vocabulary and spelling fun. Learning spelling as well as vocabulary can be boring if you are simply memorizing lists and definitions. Vocabulary Spelling City makes it fun by using interactive games, lists, and all manner of fun learning tools.
The three minute video below gives an excellent overview of the program. While it is shared from the perspective of a public school teacher, all of those same features are available in a family premium membership as well (discussed below).
While Vocabulary Spelling City already has over 42,000 spelling words available in various lists that you can use as you would like, you can also create your very own customizable lists to tie in with what you are learning.
When your child is learning a new list of words, they can simply click on "Teach Me" and they will hear a real person read the word, spell the word, and give the definition for the word as well. For each list they can also play any number of games, take a vocabulary test, review flash cards of the word, and finally take a test.
Many of the these features are free, you simply need to register to use the site. However, they also offer a premium membership. It is explained very well in the three minute video below.
Family premium memberships are $29.99
and you can track up to five students. This is the type of membership that Schoolhouse Crew members were given in order to complete this review. You can see the difference below and what is included in the Premium membership.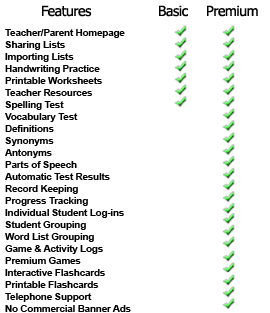 Not only does the program cover vocabulary and spelling, but a new feature now also helps in teaching writing. All of these are weak areas in our homeschool so this has been a great fit for us.
I like how it makes it super easy to set up the word lists, create the assignments, and then allow my children to learn on their own with little input from me. While we don't have a super large family, it's still difficult to read three different spelling lists and teach three different age ranges in one day. Vocabulary Spelling City has allowed me to put some of that learning over to the boys and allow them to be independent. This is definitely a resource we will continue to use this year.
Be sure to head over to the
Schoolhouse Crew Review blog
to see what other Crew members had to say about this product.
Disclaimer: I was not paid for this review.
All opinions shared are my own. Schoolhouse Review Crew members are given the product free of charge in exchange for our unbiased opinion of the product.