Action Alert
realizes that parents have an important job of protecting their children from online dangers. As most parents realize, kids are using technology at younger and younger ages. In fact, here in the state of Maine all public school students and teachers in grades 7-12 receive laptops for use in the school setting.
One school district
even began giving all kindergarten students iPad2s just this past fall. Needless to say, the online world can be a very scary, and yet very accessible, world to navigate.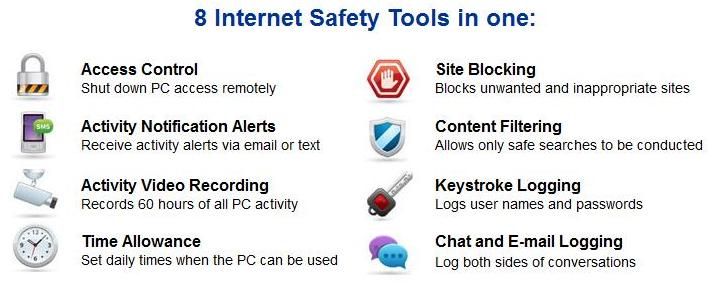 Action Alert helps parents control access to the computer it is installed on. This includes even being able to shut the computer down remotely. Activity alerts can be received via text messages so even if you aren't home, you will know if something is being accessed that you do not want your child to see. Action Alert records - via screen shots - the activity on the computer and this can be reviewed by the parent so that you can see where your child has been online. You can also set daily times when the computer can be used. Site blocking, content filtering, and keystroke logging can also be set up to help keep your child safe from unwanted activity.
Action Alert is so convinced they have a great product that they actual offer
completely free protection
. The free version can be installed on one computer and includes a web filter for safe searching, website blocking, time use control and free tech support.
However, for $29.99 you can
purchase the maximum protection plan
. This includes everything in the graphic above, plus it allows the program to be installed on up to three computers and it also monitors social networking sites. Action Alert even offers a 30-day money-back guarantee on this option.
I know have a 15-year-old with this own laptop and no, it isn't a state one. Here in Maine homeschoolers aren't able to participate in the state laptop program. Instead he saved up most of the money to buy it himself. This does mean that he uses it quite a bit, but mostly for playing PC games. He does, however, have an email account and occasionally goes online. He does not have a Facebook or other social media accounts and rarely does anything more than play another game online. Although, having some sort of filter on his computer does give me more peace of mind with him using his laptop. It helps to reinforce the rules we have set up here at our home for using his computer. I also have two younger boys who have never know life without at least one computer (we now have four) in the house. While they are closely monitored at home, it doesn't take much to hit the wrong key when typing in a seemingly innocuous web address and having it go somewhere we don't want them to. I like the peace of mind of having a filter installed. While it doesn't remove the need for parents to monitor what their child is doing online, it helps to know there is another layer of protection.
Be sure to head over to the
TOS Homeschool Crew blog
to see what others have to say about
Action Alert.


Disclaimer: I was not paid for this review.
All opinions shared are my own. TOS Crew Members are given the product free of charge in exchange for our unbiased opinion of the product.