There are very few subjects in our homeschool that make my kids go...."Wow! Cool!!!" However, the DVD we received from
ScienceandMath.com
elicited not only that response from all three boys, but also my and I as well.
You really have to think about the product being offered when this is what they have to say about it...."Our aim is to bring you the very best Science and Math videos to tickle your curiosity and entice you to want to learn more about the world around you!" I can't begin to share how much I like that in not only a company but in the products they offer.
My boys and I had the chance to check out Science and Math's
Amazing Science! Volume 1 DVD
. The DVD includes 23 experiments on two disks. You can purchase the disks for $19.95. However, you can also simply purchase them as a video download to your computer for $17.99.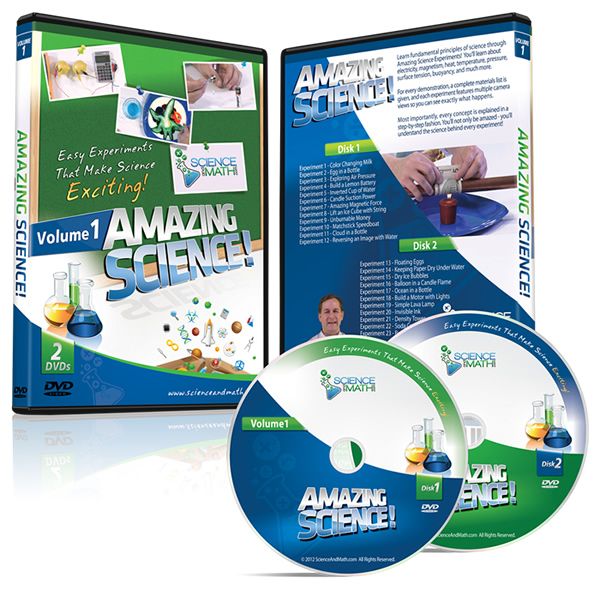 A few helpful links if you'd like to get a look at it before you purchase the product. If you click over to their website, you can find the videos for
five of the experiments for free
. A great way to see how the video works. A fellow Crew member also received permission to put together a
master list of supplies
needed for all 23 experiments.
| | |
| --- | --- |
| Disk 1 | Disk 2 |
| 1) Color Changing Milk | 13) Floating Eggs |
| 2) Egg in a Bottle | 14) Keep Paper Dry Underwater |
| 3) Exploring Air Pressure | 15) Dry Ice Bubbles |
| 4) Build a Lemon Battery | 16) Balloon in a Candle Flame |
| 5) Inverted Cup of Water | 17) Ocean in a Bottle |
| 6) Candle Suction Power | 18) Build a Motor with Lights |
| 7) Amazing Magnetic Force | 19) Simple Lava Lamp |
| 8) Lift an Ice Cube with String | 20) Invisible Ink |
| 9) Unburnable Money | 21) Density Tower |
| 10) Matchstick Speedboat | 22) Soda Can Fizz |
| 11) Reversing an Image with Water | 23) Build a Motor #2 |
We've had a great time trying out the experiments. Our favorite by far was the "Color Changing Milk."
I loved how Jason, in the videos, shows the experiment and then explains why it all works. All the videos are relatively short but thorough. Then it's your turn to try them out!
My guys also had a great time with this experiment: "Exploring Air Pressure."
This is definitely a product we'll continue to use. I successfully used this product with all three of my boys ages 8, 11, and 15. I think it is an "all ages" type product but obviously younger children would need some help putting together the experiments and even doing a few. Some require the use of matches so supervision would be necessary. Overall we loved this product and can't wait for "Volume 2" to come out!

Disclaimer: I was not paid for this review.
All opinions shared are my own. TOS Crew Members are given the product free of charge in exchange for our unbiased opinion of the product.