Over my last two years on the TOS Homeschool Crew, I have had the privilege of reviewing products for
Classical Academic Press
. The first time was one of their
Latin products
and just recently it was one of their
logic products
. Now I have had the blessing of reviewing their newest book in their Bible study series -
God's Great Covenant New Testament 1: The Gospels
. I was given their
bundle package
($56.95) which included the
student text
(a consumable workbook - $26.95), the
teacher edition
($29.95), and the
audio files
($9.95).
There are four units in the student book which includes 36 chapters. Each chapter takes about a week to complete. There is a unit theme as well as lesson themes all pointing the student towards who God really is. Each chapter also includes a memory page, story time, review worksheets, and a quiz. The end of each unit also contains a memory passage worksheet, devotional guide, and a final story to be used as a review.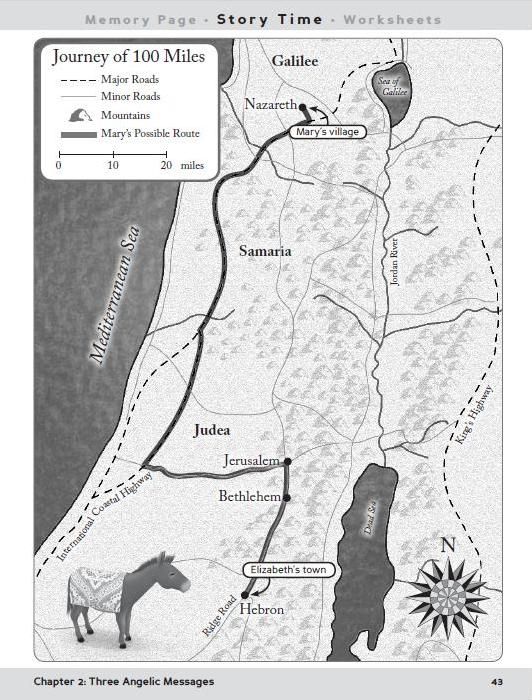 Sample page from the student book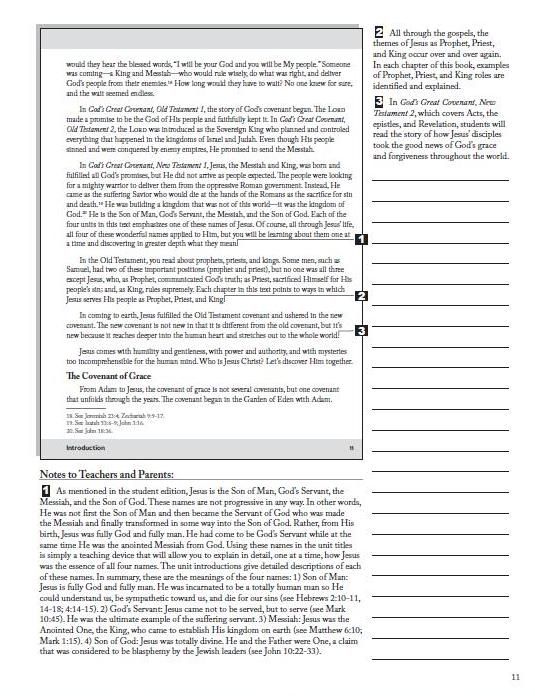 Sample page from the teacher edition
Classical Academic Press
made sure that you, as the teacher, had plenty of information on hand to teach this subject thoroughly. I appreciated that. There is even room for notes. I loved how things were connected. While my boys found the introductions, all six of them, rather lengthy, I loved them. Many times I stopped to explain how the culture of the day dictated why things happened as they did and I found myself learning right alongside them - one of my favorite side-effects of homeschooling.
The study is geared for grades four and up. However, I used this during our "together school" and found it successful with all my boys spread over grades two, five, and nine. We just did many things orally or I helped out my younger son a bit more.
As I mentioned, there were six introductions in the book. One is a general introduction about what the book will cover and what the previous two books had already shared (
OT 1
and
OT 2
). There is also a historical and political introduction, a chronological introduction, a geographic introduction, a religious introduction, and a daily life introduction where we meet our "guide," Simon. Each introduction serves to put the puzzle pieces of history together for the reader. It's easy enough to read the Bible but I have found that it helps immensely if one also understands what was going on during the time in order to understand it fully. The introductions serve to do just that.
I found this to be one of the most extensive and thorough Bible studies we've done to date. I loved how it took all the pieces needed to fully understand the Bible, and what God is teaching us through it, and put it together for children. Classical Academic Press has once again lived up to their motto: "Classical Subjects - Creatively Taught." We'll definitely continue using
God's Great Covenant
.

Disclaimer: I was not paid for this review.
All opinions shared are my own. TOS Crew Members are given the product free of charge in exchange for our unbiased opinion of the product.