I consider myself a "Classical-Charlotte Mason-eclectic" homeschooler. Charlotte Mason was an educator in the early 1900s who promoted the use of "living books." She defined it this way: "whole books," firsthand sources, classics, books that display "imagination, originality, and the 'human touch.'" I try very hard in our homeschool to use books that fit this description.
Heritage History
is a company that provides many books that meet the "living books" criteria. And they do so in a very unique way.
They have collected a very large selection of open source books (i.e. no copyright) of a historical nature. They books are compiled into collections that fit into a certain time frame. These are then sold on a CD. However, the CD doesn't just contain the books in one format, but in three. Each book is available as either a pdf (print-ready) or in a MOBI format (works on Kindles and other eReaders) or in a the EPUB format (works on iPads). It makes it super simple to use and affordable.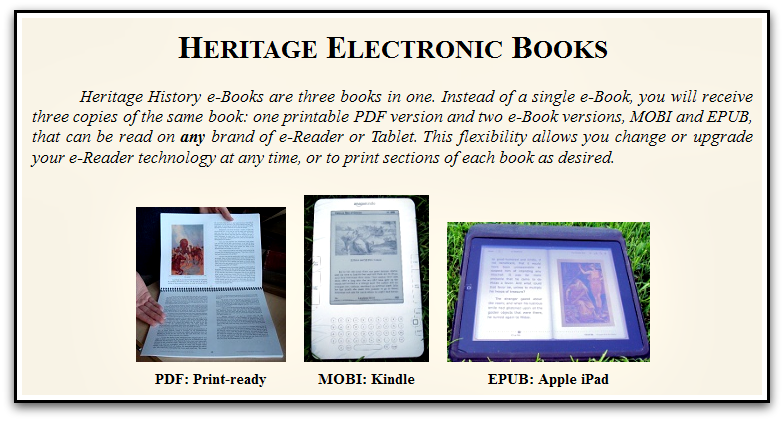 Each CD sells for $24.99
and there are five available:
Young Readers - an introductory look at world history for grammar level students
Ancient Greece
Ancient Rome
British Middle Ages
British Empire
If all five are purchased as part of the World History Collection, it retails for $99.99 (a $25 savings).
Not only are the books available on the CD, but many other helpful resources are included as well. It turns their book collections in to unit studies.
I was able to check out their
Young Readers collection
. This collection is intended for grammar age students (grades K-4) who are reading fluently (a fourth-grade level). There are 86 books contained in the collection. Unlike the other collections, there is a Teacher's Guide included given that this is geared for younger students. The creators of Heritage History realize that parents will be guiding their students through the use of the collection and have added resources to support that.
There is also an
option to purchase
a printed colored version of the Teacher's Guide ($20.99) for those who are unable to print their own at a low enough cost. You can also purchase just a download of the Teacher's Guide (with no books) for only $8.99 in order to follow the curriculum without buying all the books at once.
I was pleased with how the collection works on your computer. When you put the disk in a window pops up that looks like a web page. However, it is not used online. Because it works like a web page, it's very user-friendly.
It was super easy to transfer the collection to my Kindle Fire. I loved this option as it made it more enjoyable to read the books without being tied to the computer.
The Young Readers collection covers an overview of Western Civilization. It's designed to give young learners a look at the various world histories without overwhelming them with information too early.
The CD includes books from:
American History
European History
Ancient History
Bible & Saint Stories
Legends and Folklore (a favorite here!)
Historical Anecdotes
The Young Readers CD also contains a character list, a timeline list, and a images directory. These can all be used to enhance the studies.
I really liked how it was laid out. It is
extremely
user friendly and I was able to put the CD in and start finding what I wanted very quickly. I especially appreciated the "step-by-step" guide to getting started found in the teacher's guide. By using a web-page like format, everything could be hyper-linked which made it easy and quick to find was needed.
Another aspect I really liked were the
book summaries
. The book summaries read like the back of a book making it quick and easy to see what they were about and how they would fit in a particular study.
I have to say that I really like this collection. While I could find the books on my own, as they are all free of copyright, I appreciate the time and effort that went in to not only collecting and formatting the books, but adding all the extra support and resources in order to make this a user-friendly curriculum. Add to that the ability to add the entire collection to an eReader at no extra cost, and I'm pretty much a fan of
Heritage History
at this point.
Be sure to head over to the
TOS Homeschool Crew blog
to see what other Crew members had to say about the Heritage History collections they reviewed.

Disclaimer: I was not paid for this review.
All opinions shared are my own. TOS Crew Members are given the product free of charge in exchange for our unbiased opinion of the product.