Two years ago I was at my state homeschooling convention. On a whim I decided to attend a breakout session that Apologia was hosting about their online learning. During that session, they shared with us their brand new worldview curriculum called "
What We Believe
." I was so impressed by what I heard and saw that I immediately went to their vendor table and bought the first book in the series,
Who is God?
I
rarely
buy curriculum at convention at full retail price, but I felt this series was well worth every single penny I spent on it.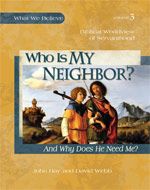 The What We Believe series takes on apologetics and helps teach children ages 6-14 a solid biblical worldview. It gives them the tools to live out their Christian faith and to really understand why it is we believe the way we do. The first volume covered the aspects of God and his truth, the second tackled self-image, the third volume takes a look at being a servant, and the fourth volume (out later in 2012) will be looking at stewardship. While this is a series of books, each book is also a stand-alone volume and they can be done out of order.
Members of the
Schoolhouse Review Crew
were given copies of the third volume,
Who is My Neighbor? And Why Does He Need Me?
($39) along with the companion notebooking journal ($24) and the coloring book ($8).
The book contains eight lessons. Each lesson contains:
The Big Idea - what is to the main topic?
What You Will Do - what are the learning objectives?
A short story to reinforce the lesson.
Think About It - questions to help you dig deeper into learning
Words You Need to Know - vocabulary words to learn
Hide It In Your Heart - a memory verse for that chapter
What Should I Do? - what trait should the child be emulating?
Encounters with Jesus - a story from scripture about a person who had an encounter with Jesus
Take a Closer Look - discussion questions about how Jesus impacted others
House of Truth - a hands on memory aide intended to be built throughout the reading of the entire series
Prayer - concludes the chapter
The main book contains a general lesson plan to use the book. It is written a conversational tone which makes for either a great read aloud or a book that an older child can read on their own. This also makes it easy to use the book with multiple children of various ages.
The notebooking journal has by far my favorite part...a daily, detailed lesson plan for the series. Since it is numbered by day, it's easily adaptable to be used however one may wish. I love that it makes the book a "pick up and go" type curriculum. The notebooking journal is designed to be used by a child to create a notebook of their learning.
If you have younger children who like to keep their hands busy while being read to, the coloring book is a perfect addition. It contains pictures from the series that help to illustrate the story. The simple line drawings make it easy even for very young ones to color along.
It's certainly no secret at this point that I think this series of books is
fantastic
. Apologia has done a wonderful job taking something that can be difficult to teach well - a Biblical worldview - and made it super easy to do so. Sharing the
why
behind our faith can be hard at times. Apologia has made it easier with their
What We Believe
books.
My boys really enjoy the books. Since I have a wide age range, ages 8, 11, and 15, I taught them all together. I read and the boys take turns narrating back the story, answering the questions, and discussing what we read. I did not have them fill in the notebooking journal as I didn't purchase enough for all of them, but I will be planning to have my 15 year old continue using the book and giving him the journal to use.
Overall I think this is a great addition to any homeschool. Be sure to head over to the
Schoolhouse Crew Review blog
to see what other Crew members had to say about this product.
Disclaimer: I was not paid for this review.
All opinions shared are my own. Schoolhouse Review Crewmembers are given the product free of charge in exchange for our unbiased opinion of the product.