Being a good reader does not necessarily make one able to thoroughly understand
what
is being read. The ability to analyze and learn from the written word is an essential skill to learn and one I wish I had a better grasp on myself.
Literature study can be difficult (in my opinion), but
Hewitt Homeschooling
makes it much easier. As a member of the
Schoolhouse Review Crew
, I was recently given the chance to try out their Lightening Lit and Comp program. I chose to use their
Mid-Late 19th Century
program.
The package I received to review included the
Student Guide
($29.95) as well as the
Teacher's Guide
($2.95). The student edition is perfect bound and designed to be used and read by the student. The teacher guide comes already 3-hole punched so you can easily slip it into a binder. The course can be completed in either a semester or a full year and the TG includes easy to follow lesson plans for both methods. I
loved
this as it made it super simple to implement.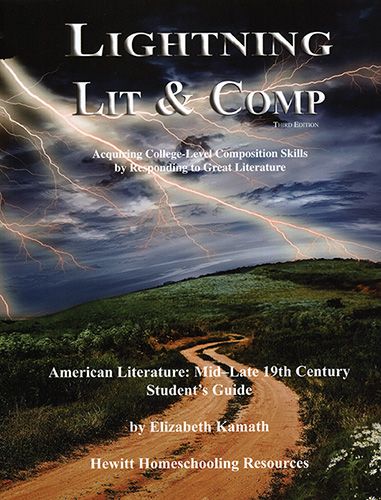 The Mid-Late 19th Century guide covers the following novels:
Uncle Tom's Cabin by Harriet Beecher Stowe
Huckleberry Finn by Mark Twain
The Red Badge of Courage by Stephen Crane
The Call of the Wild by Jack London
Along with the four novels mentioned above, there are a selection of short stories and poems that are also included for study. All poems and short stories are included in the student guide. To see a complete list of the table of contents for the program, simply click
HERE
. You can also see a sample of the program by clicking
HERE
. You can also purchase a
Mid-Late 19th Century Pack
for $51.98. This includes both the student guide, teacher guide, and paperback copies of the four novels being studied.
Each lesson covers theme, humor, description, point of view, figurative lanugage, register, and sound in poetry. Information about the authors are included as well and helpful to understanding their point of view in writing their selections. There are comprehension questions, writing exercises, discussion questions, project suggestions, and reading lists to help complement what is being studied. All answers to the comprehension questions are included in the teacher guide.
Our use of the program was a bit unconventional. Instead of having my son read the books, we listened to audio books instead. Our favorite was Huckleberry Finn. We would listen as we were driving about doing errands and such. I didn't require my oldest son to give it his full attention, but soon found him putting down the book he was currently reading, listening in and engaged in the story. This was reflected in the answers on the comprehension questions.
I found the program super simple to implement. I really love using programs that are not teacher intensive. This is definitely a good fit in that regard. In asking my hard to please teenager what he thought of the program, he deemed it "tolerable" but liked it better when we used the audio books rather than reading the actual paper book. This may stem somewhat from the older language used in the books. However, since I was using an unabridged reading of the book, I found this acceptable.
I also appreciated the fact that it was not just a study on various novels of the time period. The fact that poetry and short stories were added was also a huge plus for me. Added to that the discussion of various literary elements, and I felt that Lightning Literature was a good fit for my family. We'll certainly be using this product (and others by Hewitt Homeschooling!) in the coming years.
Be sure to head over to the
Schoolhouse Review Crew blog
to see what my fellow Crew mates had to say about the products they reviewed for
Hewitt Homeschooling
.
Disclaimer: I was not paid for this review.
All opinions shared are my own. Schoolhouse Review Crewmembers are given the product free of charge in exchange for our unbiased opinion of the product.