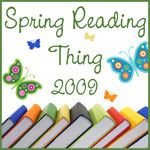 I'm looking forward to this year's spring reading challenge. I've been participating in these now for a couple years & it's a great way to find new books to read. I'm always looking for new books. I tend to get stuck in ruts & read over & over again the same authors & even the same books. I'm doing it now as a matter of fact so this challenge it pretty timely.
I do have a list in my sidebar to the right with my 2009 TBR list. This is going to be added to as I find new books to read but a lot of those are going to show up on my list for the Spring Thing Reading Challenge. Katrina is hosting again and I love participating. She was great about adding covers which I found very helpful. However, I'm just listing it out per usual. No photos at all this time. Sorry! ;-)
***************
FICTION
Dead Aim by Iris Johansen
Fatal Tide by Iris Johansen
Long After Midnight by Iris Johansen
The Ugly Duckling by Iris Johansen
And Then You Die by Iris Johansen
Countdown by Iris Johansen
Firestorm by Iris Johansen
Deadlock by Iris Johansen
Killer Dreams by Iris Johansen - chose not to read this one. There is a paranormal element that freaked me out a bit in previous books - this one is similar.
On the Run by Iris Johansen
Quicksand by Iris Johansen
Stalemate by Iris Johansen
The Kite Runner by Khaled Hosseini Review
A Thousand Splendid Suns by Khaled Hosseini
Crow Lake by Mary Lawson
The Clan of the Cave Bear by Jean M. Auel
The Valley of the Horses by Jean M. Auel
The Mammoth Hunters by Jean M. Auel
The Plains of Passage by Jean M. Auel
The Shelters of Stone by Jean M. Auel
The Widow of Larkspur Inn by Lawana Blackwell Review
The Courtship of the Vicar's Daughter by Lawana Blackwell Review
The Dowry of Miss Lydia Clark Review
The Duggars: 20 and Counting! by Michelle & Jim Bob Duggar Review
NON-FICTION
Never Say Diet by Chantel Hobbs
The Mommy Diaries edited by Tally Flint (for my MOPS group) Review
What Happens When Women Pray by Evelyn Christenson (Women's Bible Study) Review
***************
I discovered Iris Johansen a few years ago & started collecting a lot of her books. I really enjoy them. They are mindless mysteries with some nice twists tossed in a bit of romance as well. She began as a romance writer. There is some language and a lot of violence, but when I want to just enjoy a good story, I turn to books like this.
I added the "Earth's Children" series by Jean M. Auel for three reasons. First, I haven't read them in a long time & from what I can remember they were pretty good. Two, my hubby bought me the fifth book at least two years ago & I still haven't read it. Three, my mom loved them.
As always my non-fiction list is short. I still struggle with non-fiction & I do have a pile of it here I want to get through. We'll see how I do with the three above.
If you are interested in seeing what I've read for past challenges, feel free to click on the links below. If you are interested in participating (there is a prize at the end btw...), then make up your own list ASAP & link up to Katrina's blog by midnight of the 23rd. Happy Spring Reading!