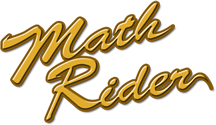 Mastering math facts is the key to mastering math itself. However, learning math facts can be tedious and boring. Just ask my kids. This is one reason I was very happy to try out
Math Rider - an intelligent math game
.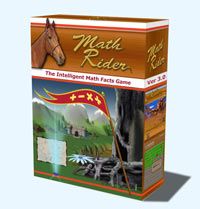 Math Rider was created by a father who wanted to help his own children learn their math facts. The game is simple yet creative enough to not only challenge the child as they learn but also make it fun. Each child is on a quest and they must ride their horse, Shadow, through various areas in the Land of Ray. As they ride, hurdles appear that they must jump over. In order to complete a jump, they must answer the math question correctly. The game tracks the ones they get wrong and has those problems show up more until the child has them mastered.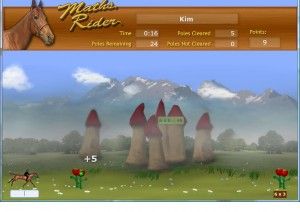 Math Rider is designed for children ages 6-12 (grades 2-6). Each game purchase allows for up to eight children to be registered and each license also allows for the game to be installed on three different computers. Normally
Math Rider sells for $47
, but it is currently on sale - until February 15, 2012 - for $37.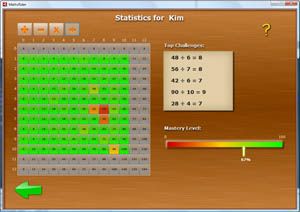 What I really love is this screen shot here. For each of my boys, it shows me the level of mastery they have for each operation. It also shows me where they were before they started using Math Rider and after. For instance, my middle son has improved his addition facts by 42% since he started using Math Rider. The statistics screen also lists the most challenging problems the child has encountered. It really is a great overview of what they are learning.
I had all three of my children try this out. My youngest son wasn't quite ready for it and found it frustrating. He needs to get a bit more math under his belt first. My oldest son at 15 years old was just a tad too old for it, but did show a slight improvement and could probably benefit from using it more. However, my middle son, age 10,
loved
Math Rider. He used it quite a bit and will continue using it I'm sure. He thought it was a fun way to practice his math facts. I loved the fact that he was practicing them without complaint
and
making progress. Overall I thought this was an excellent product.
If you think your child might benefit from this product, head over to their website. You can try it out for
free for seven days
.
Be sure to head over to the
TOS Homeschool Crew blog
to see what the other Crew members had to say about
Math Rider
.

Disclaimer: I was not paid for this review.
All opinions shared are my own. TOS Crew Members are given the product free of charge in exchange for our unbiased opinion of the product.