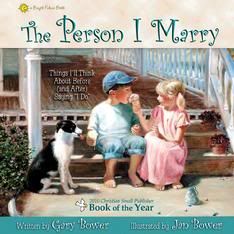 If you are a parent, you want one thing most for your child. You want them to grow up and be happy. Many parents, including myself, are already praying for the future spouse for my children. But that's not enough. I also need to convey to my boys what qualities they need to be looking for in a spouse.
Gary and Jan Bower have produced a wonderful book called
The Person I Marry
. Gary wrote sweet rhyming text that conveys qualities a person should consider in a spouse. His wife, Jan, created the whimsical illustrations found throughout the book.
The Bowers have been married for 32 years and are the proud parents to nine daughters and three sons. They created the book to not only be read to young adults, but it also works as a wonderful wedding gift or as a character building book for children.
This is a hardcover book with 32 pages. As I mentioned, it's designed for all ages. It sells for $11.99. You can see more details at the
Bower Books website
.
If you'd like to see a peak inside and hear directly from the Bowers, check out the short video below.
I found the book not only delightful with the adorable illustrations, but also profound in the wisdom conveyed in the text. I highly recommend this book for anyone with children or as a wedding gift or even if you have teenagers. I truly think this is one of the best books I've read in a very long time.
If you'd like to see what my fellow TOS Homeschol Crew members had to say, be sure to head over to the
TOS Crew blog
to check it out.
Disclaimer: I was not paid for this review.
All opinions shared are my own. TOS Crew Members are given the product free of charge in exchange for our unbiased opinion of the product.